Interview: Lee Scott // Hock Tu Down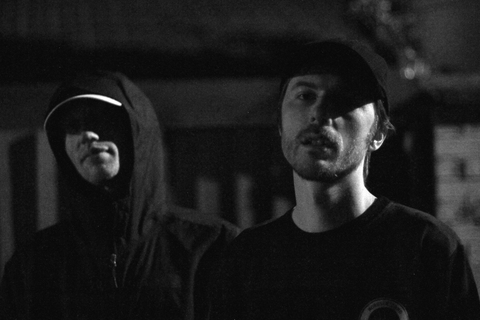 Hopefully for the majority of Wordplay readers, Lee Scott requires little introduction. However for those unaware, Lee is a world-renowned rapper/producer from Runcorn who emerged in 2003 before forming the infamous Blah Records label. Boasting an extensive history far too in-depth for recital, all that needs to be known is that Blah Records have maintained the most consistent output as a UK hip-hop record label ever since. Through Blah, Lee provided a platform for dozens of up-and-coming artists, whilst continuing to release regularly himself. In fact 15 years later, Lee's work-rate has more than caught up with him. He is currently sat on tons of unreleased projects, solo and collaborative. There is some irony in how Lee's projects are often described as sounding ahead of their time, yet for the most part they are made up of sounds lifted from the past. But of course, this is also due to beatmakers and producers such as Reklews. A pioneer of the modern Blah noise, Reklews became a pivotal figure in the Blah family, from the very first time of meeting Lee Scott. This is the story of how Hock Tu Down came to be.
Lee Scott first met Reklews in 2009. Both living in Liverpool at the time, they were introduced by TL - aka Tony Broke. "He was the hub of Liverpool hip-hop basically," said Lee, recalling their first meeting, "Tony played me some beats on a CD in the car, said its this lad called Reklews he met at some night and he's local and shit. We thought the beats were decent like, then one time Tony was going to his house to record. I went with him so I could go and meet him in person. We made one track the first time I went round to his. Not long after we made Anti-Sobriety which was a track on our first album, Prozium Peddlin. After I recorded Anti-Sobriety I listened to the track over and over and proper buzzed off how the mix sounded and that and wanted to do more. The name Hock Tu Down is a play on the phrase spit down, like 'ay mate you robbed me didn't you?' 'Nah mate I didn't, I spit down on Dave's life lad.'"
Impressed by Reklews' music, the two began collaborating more frequently. Lee quickly recognised a rare potential in Reklews, leading to a decision to involve Reklews with Blah Records more heavily."I was trying to find guys that were making shit that I thought was as good as the Americans," said Lee, looking back on his first impression of Reklews. "You can really judge somebody by how they keep their immediate surroundings. Reklews was organised and took pride in his home studio, it was clean and easy to work in. My shit was absolutely chaos, I had like 20 people in mine at all times, making insane noises in every room and shit going off everywhere. I couldn't properly run a business then, he was the perfect person to help. That guy reads actual manuals for music equipment front to back. Nutter."
Nowadays, Lee is known for dropping solo albums with sole producers. Up until Hock Tu Down happened, Lee had only released self-produced projects other than for himself. Living in Garston, Liverpool at the time, Reklews moved nearby which changed everything. "I used to write some shit in mine and bomb over to his and record it," said Lee, looking back on the Hock Tu Down debut, Prozium Peddlin. "The whole thing was recorded in his home studio. I can't remember a lot to be honest, I was just back and forth between Reklews' spot and mine over the road. I was just happy to have a project that was mixed properly by someone and that. It allowed me to just concentrate on the rhymes and shit. I wasn't really thinking about anything else."
The ideal living situation provides an explanation for how Hock Tu Down were ready to release their follow album, Something Strange just a year later. The full-length solidified Hock Tu Down in UK hip-hop at the time, in terms of achieving a lasting fanbase. Unfortunately for Hock Tu fans, afterwards Lee moved away from Liverpool. Because of this, the duo were unable to perform live or collaborate face-to-face often thereafter. "I knew eventually we'd make another one but it just wasn't right until this project." said Lee, explaining the resurrection of Hock Tu Down. "One day I was just visiting some family up north and minding a house and was bored. I needed some beats to write to and had this massive stash of Reklews beats. I take some recording equipment with me whenever I go anywhere for a bit just in case of emergencies. I started working with some of his beats and then he made a few new ones to go with them and that's that. I recorded the whole thing in a living room on me own while Nah Eeto was chilling watching shit on Netflix and whatever. I'd just record some shit and then show her and she'd buzz off it then I'd send it to Reklews. The majority was done in about 2-3 weeks. I can't fully remember the first track, I think it was I Made Some Shit. It's basically a continuation of Prozium Peddlin beat-wise but is bit more like, personal in places. It's just more of me."
Almost 8 years later, Hock Tu 3 was released on October 22nd, 2018. Packing 16 tracks and features from the likes of Jehst, the project sold out on vinyl almost immediately. "Jehst was in the studio in Liverpool," said Lee, answering how the collaborations came about. "I had this hook laced and like half a verse or so and I showed him the shit he was diggin' it and just laced it on the spot. Come to think of it, that was the only joint I didn't record in me Ma's living room. Nickelus F and Quelle Chris are just two of the illest cats out right now. Nickelus F is probably the best rapper in the world and Quelle Chris is a super original ill as fuck artist, I just buzzed off them and we wanted to continue the tradition of Prozium Peddlin and get an American feature, Tame One was the feature on that album. Those two, Nickelus F & Quelle Chris, they were the wish list so we made it happen."
Listening back over his own projects is something Lee rarely does, however there is are some standout tracks he enjoys hearing from Hock Tu 3. "Probably Fanks and Black Hoodie Weather," said Lee, "Just 'cos I really like the lyrics. Probably my favourite ever verses at this point."
Lee Scott, thank you for your time. Any final shout outs?
"Yeah shout out Lukas aka AboveGround for the Breakfast video, me and him had the idea a week before we done it and it came out mad funny. Shout out Vikki aka Nah Eeto, all day. I was showing her the tunes and bars as I went a long and that. She killed a video that we ain't released yet. Dew8 and Roland Seer done the mad animation shit for Deus Ex Machina. I guess also me Ma for going away and asking me to mind her dog and cats."