Free CD 'Wordplay Sessions Vol 1′ FREE with Issue 9!
Wordplay Magazine is becoming known for its mix CDs and why would we want Issue #9 to be any exception? We had a long, hard think about which DJ to ask to bless our latest mix and in the end we went for our favourite: Sammy B-Side Having graced the same stages as Public Enemy, DJ Q Bert and RA the Rugged Man over the years, and as the host of numerous respected radio shows from Rhyme Pad to Kids Love Rhymes, and not forgetting his status as full-time Contact Play and High Focus turntablist, the future is bright for this 1210 technician. Did he do a good job on the CD? Of course he did.
ENJOY
001 DJ SAMMY B-SIDE: WORDPLAY INTRO/PROD.LEAFDOG
002 FLIPTRIX FT. LEAF DOG: UNDERGROUND RESISTANCE/PROD. JONPHONICS
003 SPLIT PROPHETS: GRAFF TIP/PROD. BADHABITZ 
004 JAM BAXTER AND ED SCISSOR TONGUE: PIPE SMOKE/PROD.GHOSTTOWN
005 PROSE: STRESS/PROD.STEADY
006 DEEFLUX & DIRTY STANZ: TOASTY/PROD.DEEFLUX
007 THE FOUR OWLS: NOT LIKE BEFORE/PROD.LEAF DOG
008 RUNNING PUNCH: HAYMAKER
009 LDZ: SOME OF THEM/PROD.SUMGII/EXCLUSIVE
010 MAKZWELL SKOT & SLANG IMMACULATE: WHAT'S YOUR EXCUSE/PROD.P739 EXCL
011 CAPPO: CHAOS/PROD.NAPPA/EXCLUSIVE
012 DIRTY DIKE: MAYONNAISE/PROD.BEN 9MM/EXCLUSIVE
013 ILL MOVE SPORADIC & JOEY MENZA: ENDTOEND BURNER/PROD.NEIL CAGE&BEN81
014 TELEMACHUS FT. JEHST: THE SHELTERING SKY/PROD.TELEMACHUS
015 DUBBLEDGE: GET INVOLVED/EXCLUSIVE
016 SALVO MIFUNE FT. RAMSON BADBONEZ: NAGASAKI YOUTH CLUB
017 GRANVILLE SESSIONS: IF/PROD.LUCA BRAZI
018 RUM COMMITTEE: GRITTY COMMITTEE PART 2/EXCLUSIVE
019 NATURAL SELECTION FT. MIKEY T, TENCHOO, SONNYJIM, DJ JUICE: F.T.W.
020 LDZ FT. JAM BAXTER: BEAT DON'T BANG/PROD.SUMGII
021 M9: STRANGE FRUIT /CHEMO MIX
022 SKUFF: NYE/PROD.MR CONSTANT/EXCLUSIVE
ISSUE 8: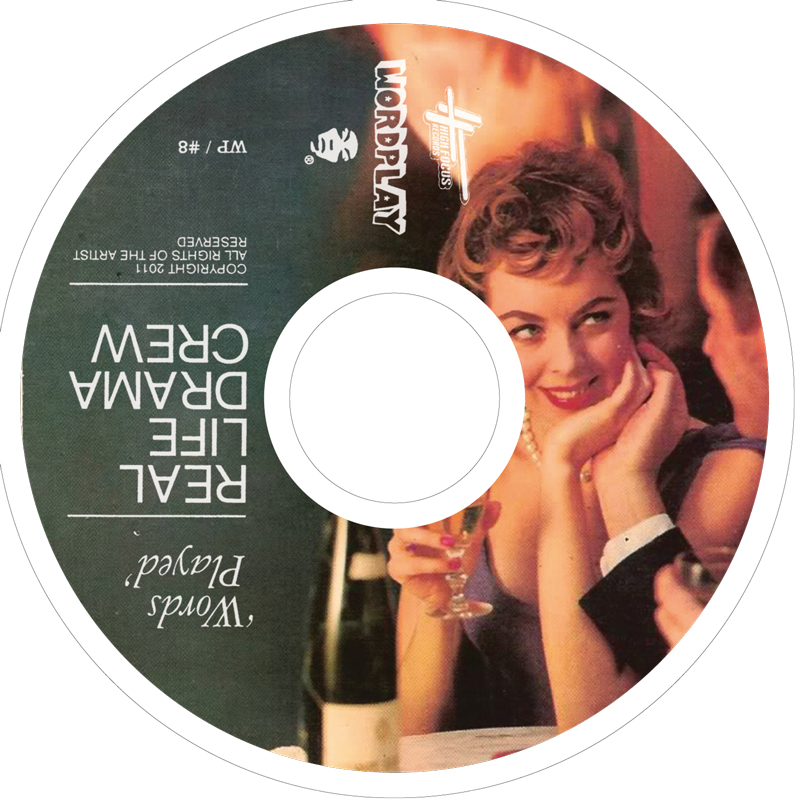 Free CD 'WORDS PLAYED' FREE with Issue 8!
It's here and if you are lucky enough to have an actual copy of issue 8 you will have received a FREE mix CD mixed by Real life Drama Crew and Designed by the guys over at Supreme Being!
1.Real Life Drama Ft Three Amigos
2.Get involved - Ft. Fliptrix, Jehst
3.Set You Free Ft. Masta Ace, Wordworth, Three Amigos (Naive Remix)
4.Love The Sound Ft Three Amigos (Exclusive)
5.Rainy Day Science Ft. Taskforce, Three Amigos (Naive Remix)
6.The Battle Ft LeafDog
7.Dangerous - Ft Kid Genius
8.You Dont Own Me Ft Three Amigos, Sadat X
9.Analyse Ft Mowgli
10.For Ever This Ft Three Amigos (Exclusive)
11.Rewind Ft Jam Baxter, Maria
12.Open Eyes Ft LeafDog (Exclusive)
13.Escapism ft Bosh (Exclusive)
14.Sound The Alarm Ft Verb t, Kashmere
15.Catch Me if You……Nah Ft Dirty Dike (Exclusive)
16.Stress Ft Dr.Syntax, Stig of the Dump (produced by Leafdog)
17.The Nest Ft Bva Mc, Eric The Red (Exclusive)
18.Some People Say Ft Leaf Dog
19.Walk With Me Ft Leaf Dog
If you haven't managed to get hold of a hard copy then they are still available from our shop or you can download the tracks here: http://wordplaymag.bandcamp.com
All tracks taken from albums available from:
High-Focus records